NRF supporters thanked at Government House
Monday 02 December 2019
NRF supporters acknowledged for service at Government House Adelaide on Thursday 28 November 2019.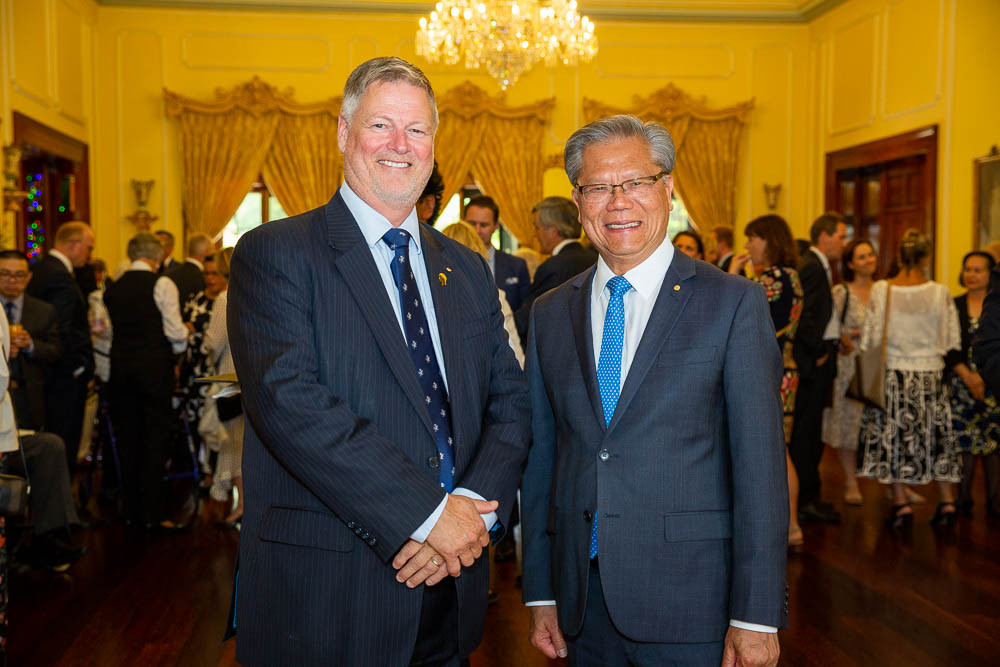 A group of dedicated supporters of the NeuroSurgical Research Foundation (NRF) were thanked for their service by His Excellency the Governor and Mrs Le at Government House Adelaide on Thursday 28th November 2019.
This reception acknowledged the outstanding contributions of a number of personal, community and corporate benefactors who have contributed to the success of the Foundation over the past 3 years.
Executive Officer, Ginta Orchard congratulated the award recipients and thanked them for their support.
"Our sincere thanks to all the award recipients for their dedication and commitment to our cause, it enables the NRF to fund life-saving neurosurgical research in South Australia", she said.
Since its inception in 1963, the NRF has donated over $9.5 million to fund life-saving neurosurgical equipment and research, including the establishment of the NRF Chair of Brain Tumour Research at the University of South Australia in 2018, with Professor Stuart Pitson being appointed for a period of 3 years. As a result, South Australia will lead gold standard research through testing to improve lethal brain tumour treatments.
NRF researchers are looking for ways to improve treatments that can save lives of children and adults living with these neurosurgical and neurological conditions: Brain Tumours, Stroke, Paediatric research, Neurotrauma (spinal cord injury and traumatic brain injury), Neurodegeneration (Parkinson's disease, and concussion).
The funding of medical research is vital for this area, which is facing alarming statistics:
Brain Tumour - 1000 people a year are diagnosed with Glioblastoma, the most aggressive form of brain cancer – which has an average survival period of 15 months
Parkinson's - In Australia 1 in every 350 Australians suffers from Parkinson's, with 32 new cases diagnosed each day
Spinal Cord Injury - leaves patients disabled and dependent for basic daily activities and there are currently no effective treatments available for SCI
Stroke - 1 in 4 people will suffer a Stroke in their lifetime
The full list of award recipients is below:
Life Members
Mr Mel Zerner
Mr Brian North
Trevor Dinning Distinguished Service Award over 20 years of service
Donald Simpson Distinguished Service Award over 10 years of service
Friend of the Foundation Platinum ($500,000+)
SA Police Ride Like Crazy (Commissioner and Deputy Commissioner of South Australia Police)
James & Diana Ramsay Foundation (Ms Kerry de Lorme)
Friend of the Foundation $100,000+
Coopers Brewery Foundation (Ms Melanie Cooper AM)
Dr Jones & Partners (Mr David Coorey)
Harvey Foundation (Mr Trevor Harrison)
Strong Enough To Live (Adams Family)
Wilkins Family Foundation (Wilkins Family)
Major Benefactor Silver $25,000+
Mr Henry Rischbieth Letcombe Foundation
Major Benefactor $10,000+
Mr Don Donlan
Mr Fred Caruso
Mr Jim Raptis
Ms Kimberley Copeland in Memory of Ms Kat Broderick (O'Brien)
Ms Kristy Imbrogno in memory of Ms Diane Dutton
William Buck – Mr Grant Martinella