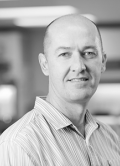 Professor Stuart Pitson
Advisory Member since 2020 | NRF Chair of Brain Tumour Research | Research Professor, The University of South Australia | NHMRC Senior Research Fellow | Head, Molecular Signalling Laboratory, Centre for Cancer Biology
Current position:
NRF Chair of Brain Tumour Research
NHMRC Senior Research Fellow
Research Professor, University of South Australia
Head, Molecular Signalling Laboratory, Centre for Cancer Biology
Professional achievements:
2019, 2013 & 2008 NHMRC Senior Research Fellowships
2018 University of South Australia Commercialisation Award
2011 Merck Millipore Research Medallist, Australian Society for Biochemistry and Molecular Biology
2003 NHMRC R. Douglas Wright Biomedical Career Development Award
2000 Georgina Dowling Medical Research Fellowship, University of Adelaide
Achievements:
Stuart has a substantial research track record in cancer cell signalling and the development of new anti-brain tumour therapeutics. He has published over 150 peer-reviewed papers in international journals. He has a strong record of successful research funding, having been awarded more than $17 million in funding to support research projects. He has held prestigious fellowships from the National Health and Medical Research Council since 2003, and has also been part of research teams gaining more than $5 million in research infrastructure funding. He also has a strong record of research commericalisation, and recently co-founded a spin-out company in 2018, Cincera Therapeutics, through a $7 million investment by the Medical Research Commerciallisation Fund to develop drugs for fibrotic conditions.