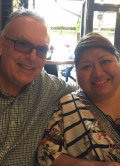 Rosel
Rosel has written the story of her brain tumour journey here. Please read her story below.
Friday 9th of June 2006. The day before The Queen's birthday weekend. A day, a weekend, I will never forget….
I woke up that morning feeling some kind of sensation in my right arm like pins and needles and numbness. Thinking that I must have slept on it--I stretched my arm and shook it. But it wasn't dissipating at all! I thought, "oh my god, am I having a heart attack or a stroke?" (bearing in mind that my mum died from a heart attack in 2001). I was willing it to stop because all I wanted to do that day was to finish my uni assignment! Right on cue, I started to feel some weakness in my leg. Still in denial that something was dreadfully wrong, my husband Andy, suggested that perhaps a warm shower might help. Coming out of the shower I felt out of balance. As I walked through the hallway, I was bumping on the walls. At this stage, Andy decided to take me to the Lyell McEwin Hospital.
After running a battery of tests including a mathematical calculation, the registrar said I was a bit slow—to which I replied, "maths wasn't exactly my forte at school." By 12 midday, he labelled me as a conundrum. They decided to send me to have a CT scan. At 2 pm the results of the scan showed that there was an anomaly in my brain. An MRI scan was the next test. By 4 pm, I was told that I had a brain tumour the size of an egg. Upon hearing this, a mental fog hovered over me and I had to digest this information on my own because Andy had to pick up our son Wade from school. A nurse phoned Andy at home with the news and told him that I was being transferred the Royal Adelaide Hospital. The three of us spent an eventful and sometimes scary night in the corridor waiting or turn to get into the ER. The next day I was transferred to the Wakefield Hospital for surgery on Tuesday following the public holiday.
The treatment
My treatment included two craniotomies, first for a biopsy (the diagnosis was with a grade 2/3 Oligodendroglioma) and another one for a partial resection of the tumour which was located on my left parietal lobe.
Our medical team recommended for me to have radiation treatment. When the radio-oncologist visited us while I was in hospital, he casually informed us that patients with my type of tumour can survive between 10-12 years. I cried myself to sleep that night. My stay in hospital lasted a month.
A few weeks after being discharged, I commenced a course of radiation therapy. This was administered for 15-20 minutes, 5 times per week over 6½ weeks.
Initially, the possibility of losing my hair during the course of radiotherapy, didn't bother me at all. But when clumps of it fell out while I was showering, I broke down. That day, I took ownership of the hair loss by getting Andy to shave it all off! When I recount this story there's always one person who comments: "but it's only hair, it seems so trivial when you consider the alternative!" Yes, this is a valid point of view. But for many women who are dealing with cancer, losing our hair is like losing a part of our identity. But I think that at the core of it, is the loss of control.
During the last week of hospital, unfortunately, the symptoms that presented that fateful day of diagnosis, reoccurred. After the course of radiotherapy, I worked with a neuro-physiotherapist to a point where I regained some mobility and balance.
However, in 2016, the seizures were back, with my right side paralysed and my speech slurred. I was taken by ambulance back to the Lyell Mac where my journey started ten years previously. The test results yielded nothing. The doctor explained the weakness in my right limbs as Todd's paralysis – an episode that can occur for between 24 to 48 hours. What caused this? Scar tissue apparently! I was back to taking anti-convulsant meds. At present I have seizures in varying degrees every day. in 2019 a new neurologist organised an EEG that monitored me 24 hours continuously for an eight-day period. As they did not register, my seizures are considered to be dissociative and not epileptic. It seems to be difficult to ascertain what causes them to occur and if the medication is effective. So, the struggle is real……. But we've learned to arm ourselves with coping strategies. For example, we see a neuro-physiotherapist to help with improving movement and a psychologist for a mental health check. We also have at least one rest day between medical appointments and outings because I get fatigued easily.
When a cancer patient gets a diagnosis, it becomes a family affair. Our son, Wade, lost a sense of innocence in terms of having to deal with the implications of living with brain cancer. Andy lost a potential financial partner in me because at that time, I was halfway through a bachelor degree in Early Childhood Education at UNISA. So yes, patients are more than just a statistic—we have back stories and lived experiences. And as consumers of services, we are getting more savvy in seeking information. We are not mere medical cases, we have a knowledge base that we can share with to the rest of society.
Celebrating the milestones
There is no doubt that the cancer experience can be intense. But despite all that, my cancer experience has yielded a lot of positive moments. I rediscovered how blessed I was to have the most wonderful husband & partner. The support of family and friends have been unwavering. We never take anything for granted. There's a sense of gratitude and mindfulness in the way we deal with our lives. When I was lying down in hospital, I kept playing this movie in my mind that projected a montage of milestones that I wanted to be a part of: I saw myself celebrating my 40th with family & friends; I saw myself at Wade's high school & university graduations; I saw myself organising wade's 21st party; I saw myself with Andy, celebrating 25 years of wedded bliss. And you know what, I'm doing really well with that list! On Wade's 21st birthday party in 2011, I said in my speech that this was a momentous occasion for me because I get to celebrate and tick off yet another milestone on my checklist!
Since then, Wade has graduated from two universities and last year Andy and I celebrated our 31st wedding anniversary.
The "New Normal"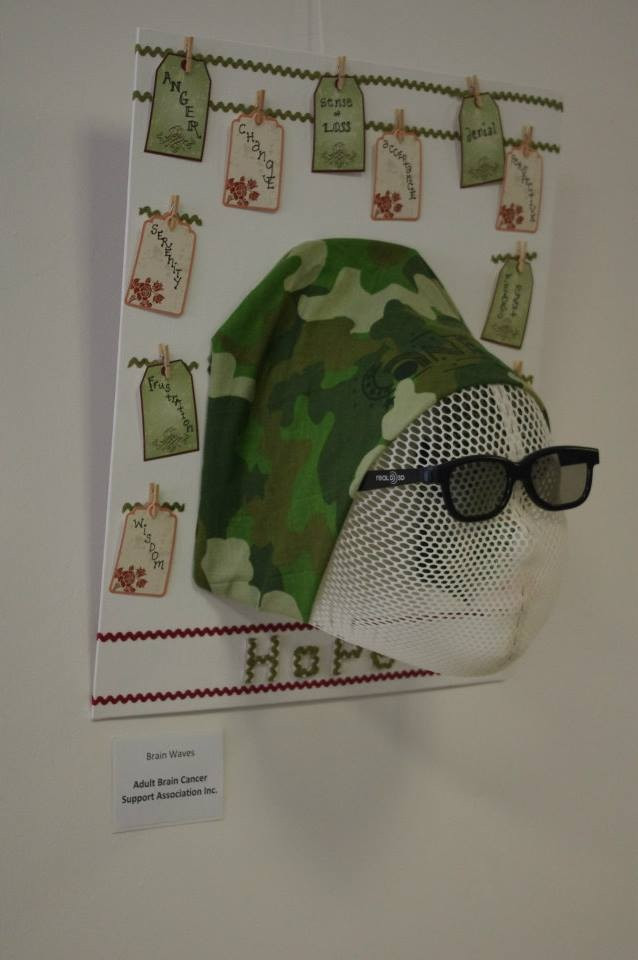 Many of us who are living with cancer often coin this phrase to explain that the life we once knew has somewhat changed throughout the journey. It is by no means a deficit—it's just different.
The photo is of some artwork that Andy and I created. I consider it to be a symbol of my new normal. It sums up my cancer journey far more eloquently than I ever could. The mask is actually the one that I had to wear during my radiotherapy treatment. The tags depict all the emotions/feelings/ that I went through and also the self-discoveries along the way. The scarf represents my battle with brain cancer and the mask is my battle scar. And that with hope & determination, adversity can turn into achievable triumphs. My cancer experience has given me the opportunity to do volunteer work with Cancer Council in their peer support program. It's important for newly diagnosed patients to realise that they're not alone and to know that I've walked in their shoes. My work with Cancer Council and with our support group, Adult Brain Cancer Support Association (ABCSA) has been rewarding and cathartic. I have become a passionate advocate for brain cancer awareness, brain cancer research and for a delivery of better health care steeped in compassion and empathy. ABCSA has also performed fund raising to donate to the NRF.