Wilkins Family Foundation funds purchase of new neurosurgical equipment for Women's & Children's Hospital
Thursday 31 October 2019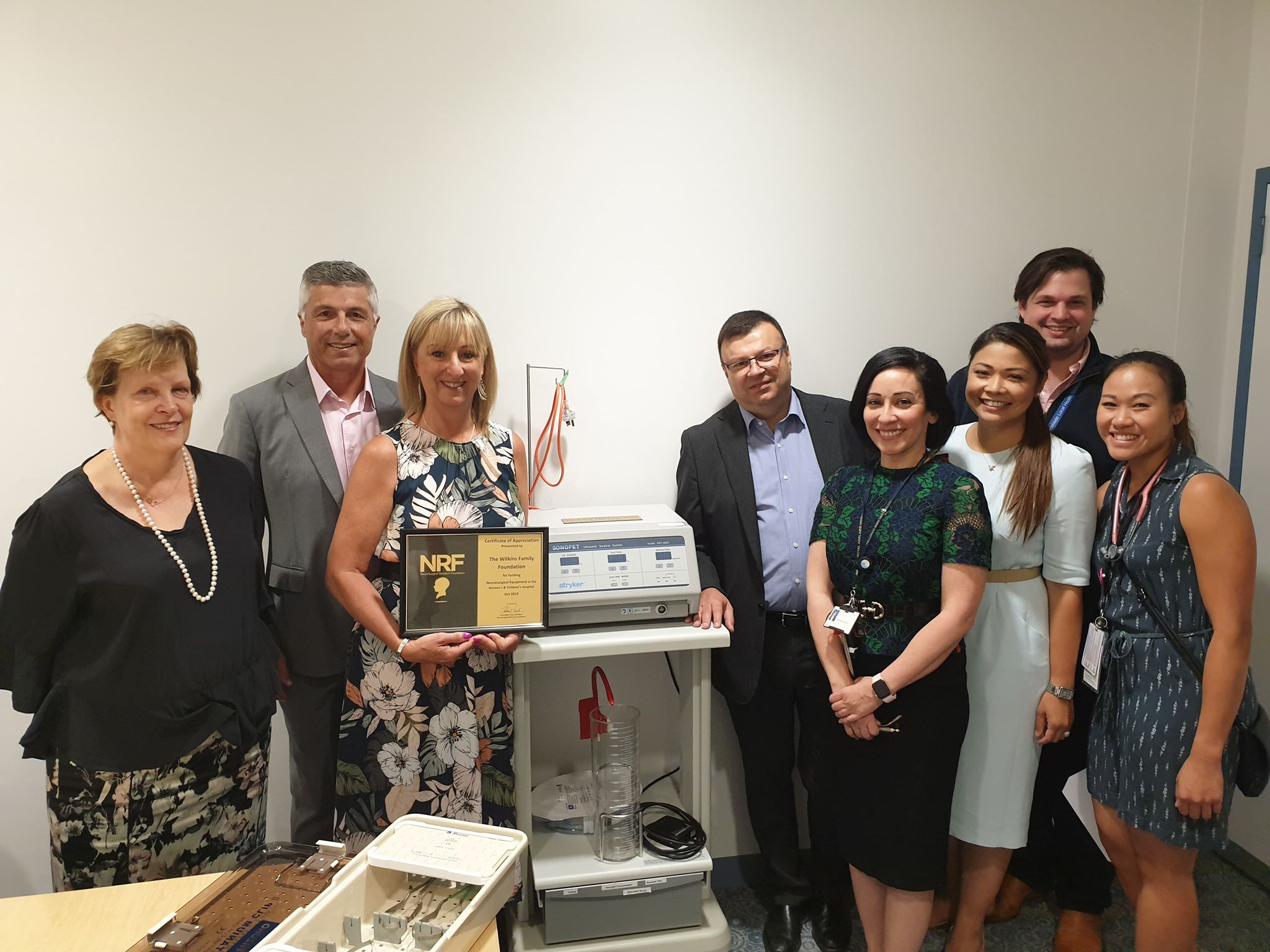 The Wilkins Family Foundation, comprised of Michael and Sandy and their three children, Kelsey, Kristen and Mitchell Wilkins, have donated funds to the Women's and Children's Hospital this month, enabling the purchase of new neurosurgical equipment which will save children's lives.
The neurosurgical team led by Dr Stephen Santorenous and Dr Cindy Molloy at WCH recommended the purchase of Aneurysm Applicators and Fukushima Suckers. This equipment enables neurosurgeons to clip aneurysms and stop them from bleeding into the brain.
The WCH neurosurgical team thanked Sandy & Michael Wilkins on behalf of the Foundation at the WCH on Wednesday 30 October 2019. This event was attended by Dr Stephen Santorenous, Dr Cindy Molloy, Dr Amal Abou-Hamden, Dr Xenia Doorenbosch, Dr Stephanie Chan and Dr David Tredan.
The connection between Dr Santorenous and the Wilkins family began many years ago when Sandy and Michaels' daughter Kristen was diagnosed with a brain tumour. She has since recovered and is doing well.
This experience prompted the family to want to give back and help others going through similar situations. Since that time, the Wilkins Family Foundation has donated funds to purchase a variety of different life-saving neurosurgical equipment throughout South Australian hospitals.
Michael said, "The family is so lucky Kristen is healthy now thanks to Dr Santorenous and his team and it was important they had the best equipment possible to continue their great work."
Dr Santorenous said, "We are extremely grateful for the support of Michael and Sandy for this generous donation. We have been friends for a very long time now, and we are so grateful. This equipment will be used regularly in theatre – helping us to save children's lives - thank you so much."