Tyler Fuller's Story - Life after a TBI
Friday 17 September 2021
Tyler Fuller was just 19 years old when he suffered a terrible accident after falling on to the rocks at Middleton on New Years Day 2020.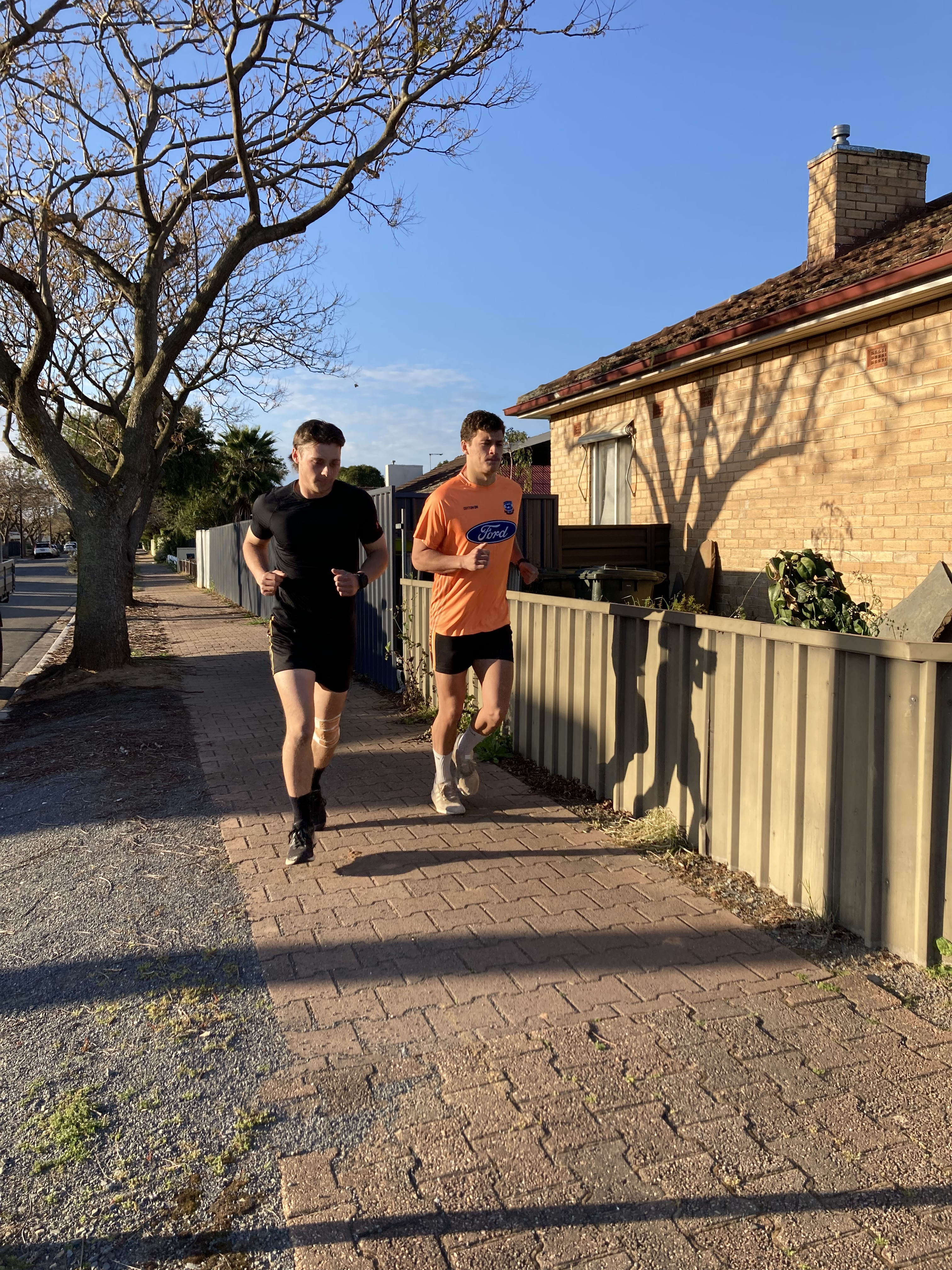 Tyler shared his story about his incredible recovery with the NRF to help promote the need for research into brain swelling and traumatic brain injuries.
Tyler and his brother Kynan are training for the 2021 City to Bay Fun Run as part of NRF Team Neuro – please help them raise funds here!
Tell me about your accident, what happened?
I was down in Middleton at a mate's shack for the New Year celebration, due to the celebrations, I became quite intoxicated. In the early hours of the 1st of January 2020, I fell off a 10 metre cliff edge in Middleton. I landed head first onto rocks at the bottom of the cliff.
Ian, an ICU Paramedic, was my first responder. He spent an hour with me and was worried that he may have to intubate me by himself. I was then taken by other paramedics to the Victor Harbour Hospital where I stopped breathing and was resuscitated. I was then taken by helicopter to the Flinders Medical Centre. I had a 6–8-hour head/brain surgery done where they performed a Decompressive Craniectomy, removing about a third of my skull bone on the left side of my head. I was in a coma for 19 days.
What happened after that day, tell me about the recovery and rehabilitation process.
Once I was moved from the ICU into my ward-room, my recovery and rehab begun. I was in a soft padded helmet for about 5 months to protect the area where the skull bone was removed. I was in PTA - Post Traumatic Amnesia - for two weeks. I was moved to the Hampstead Rehabilitation Centre and completed a range of rehab sessions. I spent the whole month of February at Hampstead and was then moved to the Flinders Medical Centre Rehab. My last rehabilitation was through BIRCH at the repat on Daws Road, all done online through zoom because of Covid-19. On the 15th of June I had my plate surgery where a titanium plate was put in place of the skull bone that was removed. After recovering from this surgery, I felt like l was done with anymore rehab after that. I then decided to see a plastic surgeon to have an implant put in to fill a gap in my temporal lobe.
Who was your doctor?
The four surgeons that performed the initial six hour lifesaving surgery are still unknown, but I hope to change that soon. My plate surgery was done by Neurosurgeon Professor Matthew McDonald. My plastic surgery was done by Dr. Nicholas Marshall. My current Neurologist is Dr. James Leyden, and my current Psychologist is Ashlee Raymond.
How are you feeling now and what are you looking forward to?
While I have these impairments, I feel pretty much the same as I was before my accident. I have recently been accepted by UniSA to study the Bachelor of Psychology (Cognitive Neuroscience), which I am looking forward to. I am also looking forward to assisting others with brain injuries and supporting the organisations who assist brain injured people with their recovery and rehabilitation.
Why did you decide to fundraise for the NRF and what are you hoping to achieve?
Since my injury, I have wanted to support an organisation in relation to brain injuries. Prof. McDonald told me about the NRF and gave me their brochure to have a read. I wanted to help raise funds for their research and their development in understanding what a TBI does to the brain and their development with halting brain swelling. I am hoping that my fundraiser will do these things, but also assist people to be more aware of brain injuries and how life-changing they can be.
What is the one piece of advice you would give to another person who is going through this journey after a head injury?
My biggest piece of advice would be to not give up with their rehab, recovery, goals and dreams. Being positive about the injury and recovery is an essential mindset to have while going through this experience. Don't think poorly of yourself or what the injury might restrict you to do. This injury is a life-changing injury, but your reaction to the injury is up to you. I look at it as a blessing in disguise, and I hope others who might go through this experience will think the same.
Donate here to Tyler & Kynan's City to Bay fundraiser for traumatic brain injury research.
Donate now to NRF Traumatic Brain Injury research.