The Advertiser features NRF & Centre for Cancer Biology's brain tumour research
Wednesday 01 July 2020
Journalist Clare Peddie wrote the following article for The Advertiser on Thursday 2nd July 2020.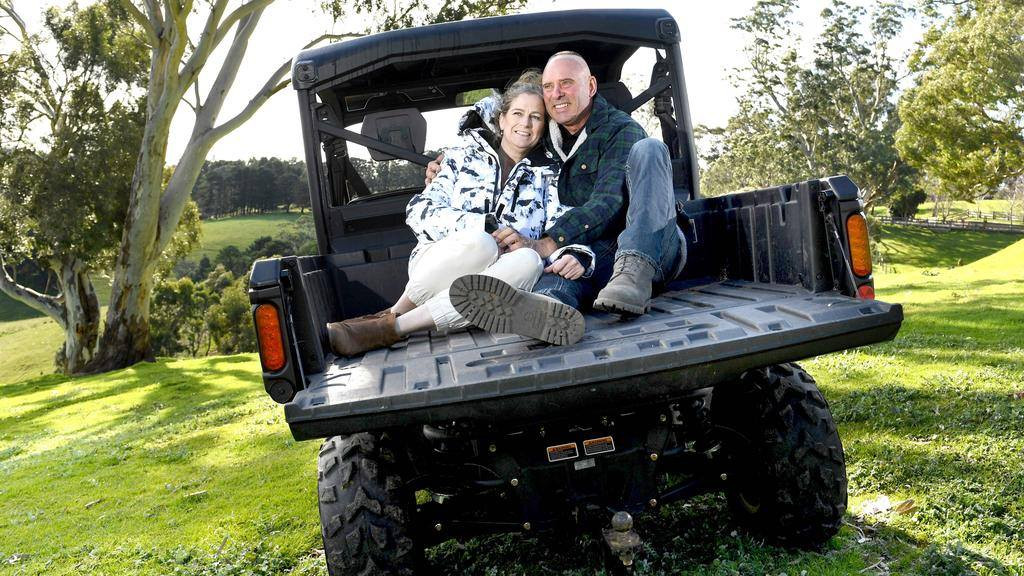 The below article was written for The Advertiser on Thursday 2nd July 2020. The link to this article is here.
To donate to Pete Cutting's brain cancer research fundraiser please visit: https://au.gofundme.com/f/petes-army-help-fight-brain-cancer
Adelaide researchers are working towards clincal trials of a new therapy they hope can genetically modify our cells to teach them how to seek out and then destroy damaged ones.
Clare Peddie, The Advertiser July 1, 2020 8:00pm
Gliobastoma patient Peter Cutting with his wife Liz say they would "absolutely" be prepared to join clinical trials. Picture: Tricia Watkinson
Adelaide's Centre for Cancer Biology is leading research into a new therapy for brain cancer, training the body's own defence cells to detect and kill the diseased ones.
The approach has worked for leukaemia and other blood cancer treatment.
While scientists elsewhere are investigating the potential to target melanoma and breast cancer, the focus here is on brain cancer, which is particularly challenging to treat.
In an alliance between UniSA and SA Pathology, the Centre for Cancer Biology is experimenting with the new cell therapy in preparation for clinical trials.
Dr Tessa Gargett says the Chimeric Antigen Receptor (CAR) T-cell therapy involves genetic engineering and modifying the patient's own cells to boost the immune response.
The scientists target a subset of white blood cells known as killer T-cells and then introduce new DNA, so they can recognise the tumour cells.
"The idea is that they find their way into the brain, find the tumour cells, bind to them and start killing them," Dr Gargett said.
"The challenge is we need them to only attack the tumour cells and not the healthy brain cells. But our initial safety testing in the lab looks good."
The Hospital Research Foundation and the NeuroSurgical Research Foundation are funding the last stage of preclinical testing to ensure it is safe for patients to begin clinical trials next year.
Adult patients will be treated at the Royal Adelaide Hospital while children will be treated at Sydney Children's Hospital. Dr Gargett is currently using blood and tissue samples from brain cancer patients to practice making the therapy and test it against the tumour.
The Hospital Research Foundation has invested $380,000 into research on CAR T-cell treatment of brain cancer since 2018.
The NeuroSurgical Research Foundation provided $50,000 for Dr Gargett's latest project, supported a recent trip to visit collaborators at the Baylor College of Medicine at Texas Children's Hospital and gave a further $30,000 to her colleague Dr Lisa Ebert.
Peter Cutting, 51 of Cherry Gardens was diagnosed with a glioblastoma in April.
"It was a bit of a shock to me and everybody else," he said.
"We were surprised because I'm so fit."
His wife Liz said they would "absolutely" take part in a clinical trial of the new cell therapy if eligible. "We would try anything that would give us a bit of hope for a cure," she said. "There seems to be a lot of it (brain cancer) out there, so if everyone can benefit from the treatment that would be awesome."
Donate now to Pete's brain cancer research fundraiser:
https://au.gofundme.com/f/petes-army-help-fight-brain-cancer