TAR Dinning Scholarship Launch Raises over $150,000
Tuesday 20 April 2021
TAR Dinning Scholarship Launch Raises over $150,000!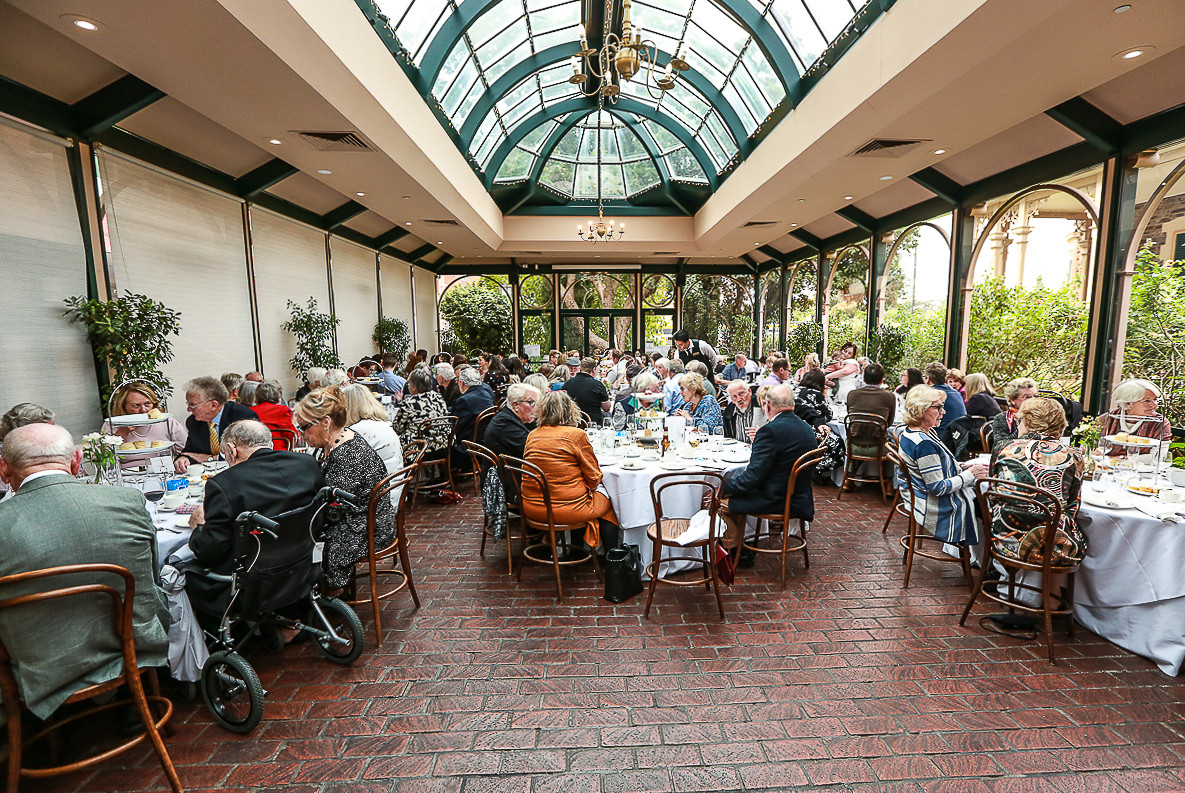 Thank you to the NRF community, together with Nadia Kingham and Anthea Dinning, the daughters of TAR Dinning, who have raised over $150,000 to establish the new scholarship for neurosurgical trainees.
In addition, the NRF has agreed to "top up" the Scholarship in order to reach a total of $200,000!
The event attracted 164 attendees from Adelaide and interstate. Thank you to all our NRF donors, generous prize donors and guests- your contribution is greatly appreciated.
The grand high tea at Ayers House was an outstanding success, and featured an array of distinguished speakers, include NRF President Glenn McCulloch, TAR Dinning's daughter and NRF Board Member, Dr Nadia Kingham, retired neurosurgeon Prof Peter Reilly AO and the NRF Abbie Simpson Clinical Fellow Dr Adam Wells.
To continue the legacy of innovative neurosurgeon and NRF co-founder, TAR (Jim) Dinning, this new scholarship will provide neurosurgical trainees and recently qualified neurosurgeons with opportunities to extend and enhance their knowledge and learning.
Dr Nadia Kingham shared these thoughts:
"My sister Anthea and I hope that, in some small way, this scholarship will assist young neurosurgeons to advance their skills by collaborating with other experts and travelling to visit other inspiring neurosurgeons. Dad would definitely have applied for a scholarship like this," she said.
Dr Glenn McCulloch spoke about TAR (Jim) Dinning and his impact on neurosurgery in South Australia, the NRF and also, on himself as a young medical student.
"Jim Dinning was the first pure neurosurgeon in Adelaide. I use the term "pure" as there were two surgeons before him, Sir Henry Simpson Newland and Sir Leonard Lindon who performed neurosurgical procedures, but they also did many general surgical procedures.
"Jim Dinning was the first surgeon in Adelaide who did only neurosurgical procedures – the first "pure" Adelaide neurosurgeon. Jim and his friend Donald Simpson had the foresight to start the NRF in 1963 which is partly why we are here today. Jim's daughters, Nadia and Anthea, have made a significant donation to the NRF to establish a scholarship in memory of their father – the TAR Dinning Memorial Neurosurgical Scholarship," he said.
Dr McCulloch also said that, "I personally never worked with Jim Dinning but in late 1964 I had an encounter with him across the road at the old RAH which profoundly influenced my life. As a young medical student, I saw Jim skillfully assess a patient with a difficult neurosurgical condition and then do an operation that had elements of the exotic and indeed even tinges of black magic to my young mind. Once bitten by neurosurgery, I was hooked," he said.
Prof Peter Reilly AO said that his own career was profoundly influenced by TAR Dinning:
"He was innovative, and inventive always seeking new approaches to better surgery - an early adopter, for example, of the operating microscope. He seemed to know more about relevant medical technology for recording devices than the medical technicians.
"His vision for research led to the formation of the NRF and, highly relevant to today's event, research training. To that end he encouraged and facilitated Brian North and then me to study at the Institute of Neurological Sciences Glasgow with a view to returning to Adelaide to establish and continue research here.
"I have been reviewing the history of neurosurgical research in Australasia and it is clear the TARD was one of very few senior neurosurgeons who gave any encouragement to their trainees to undertake clinical research training at that time. We were fortunate.
"So I am indebted to TARD for two major steps in my career - the inspiration to aim for neurosurgery and the encouragement to follow an interest in research, an interest which has enriched my career.
"There can scarcely be a better tribute to his memory and vision than a scholarship to assist young neurosurgeons to further their training. It is a wonderful initiative by the family, and I know that they are most grateful for our support," Prof Reilly said.
Dr Adam Wells, the NRF Abbie Simpson Clinical Fellow, and he shared his experiences of undertaking neurosurgical training overseas.
"Australasian Neurosurgical training is a long and difficult process that not everyone who starts completes; at present formal training takes around 6 years which is not inclusive of basic undergraduate medical training or higher degrees by research like a Masters or PhD, and generally requires interstate travel to work in a variety of different hospital settings and with different teams of Neurosurgeons.
"At the completion of formal training most Neurosurgeons choose to undertake a Fellowship. A Fellowship is a transitional period of typically one or two years, and marks a metamorphosis of the surgeon from advanced trainee to specialist, much like an apprentice transitioning to a young master. Fellowships are also generally focused and sub-specialised, allowing the Fellow to really hone their skills in a highly specific sub-interest, often in a centre recognised as being a world leader in that area.
"Fellowships can be performed within Australia and frequently are, however there is something very special about travelling overseas for a year and working in the same specialty but with different teachers and in a slightly different setting. It is eye opening and challenging, but also a deeply satisfying and overall wonderful experience. The UK has long been a favourite destination, however Canada and the United States are also popular, but a Fellowship can be undertaken at almost any Neurosurgical centre anywhere in the world.
"As wonderful and rewarding as an overseas fellowship is, it can also be a very disruptive and costly experience, and especially so with a young family.
"My UK Fellowship year was one of the best years of my life. And if I had the support of a Jim Dinning Memorial Scholarship to help with this, as future generations of South Australian Neurosurgical Fellows will now have access to, to pardon the pun it would be a "no brainer", Dr Wells said.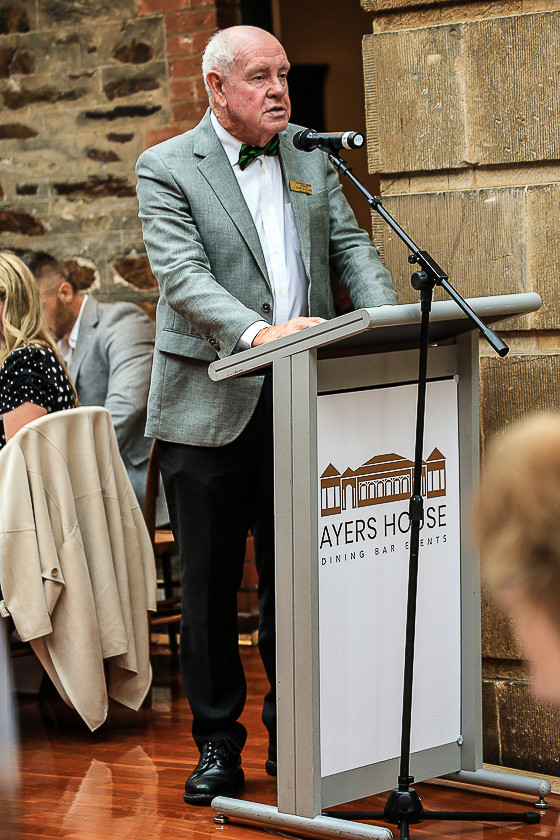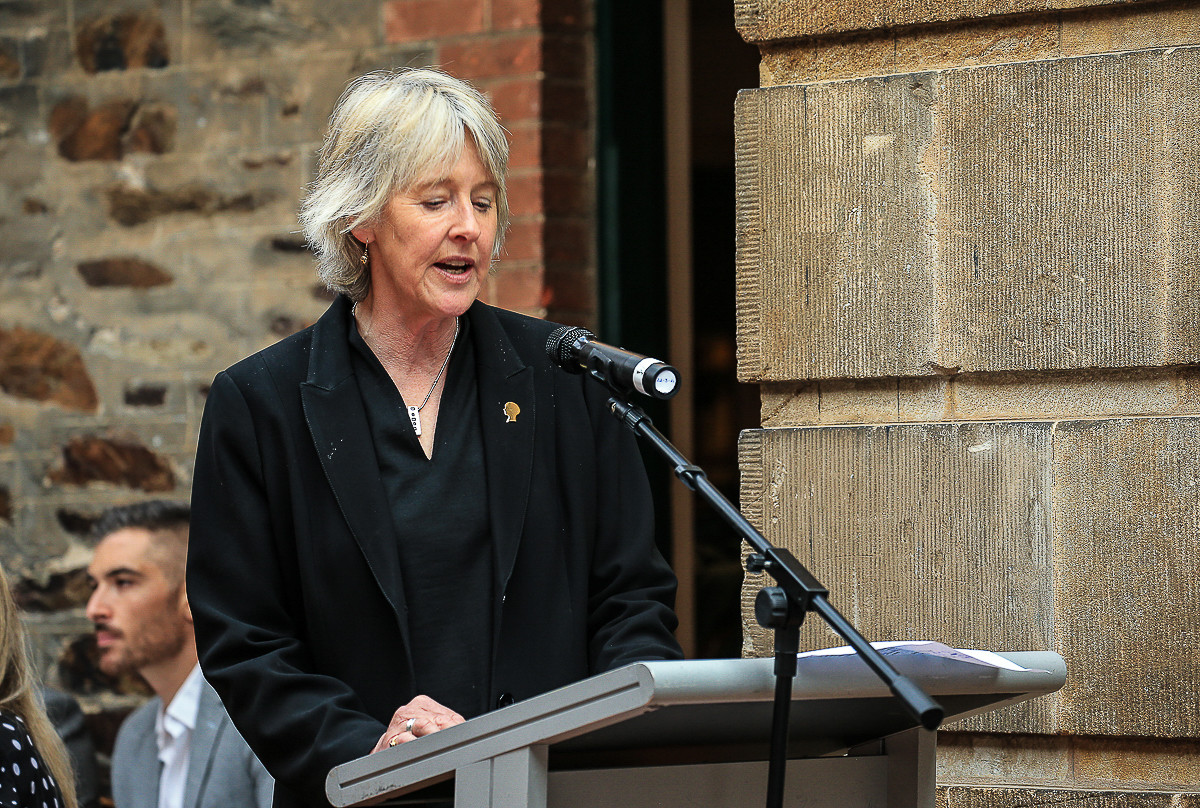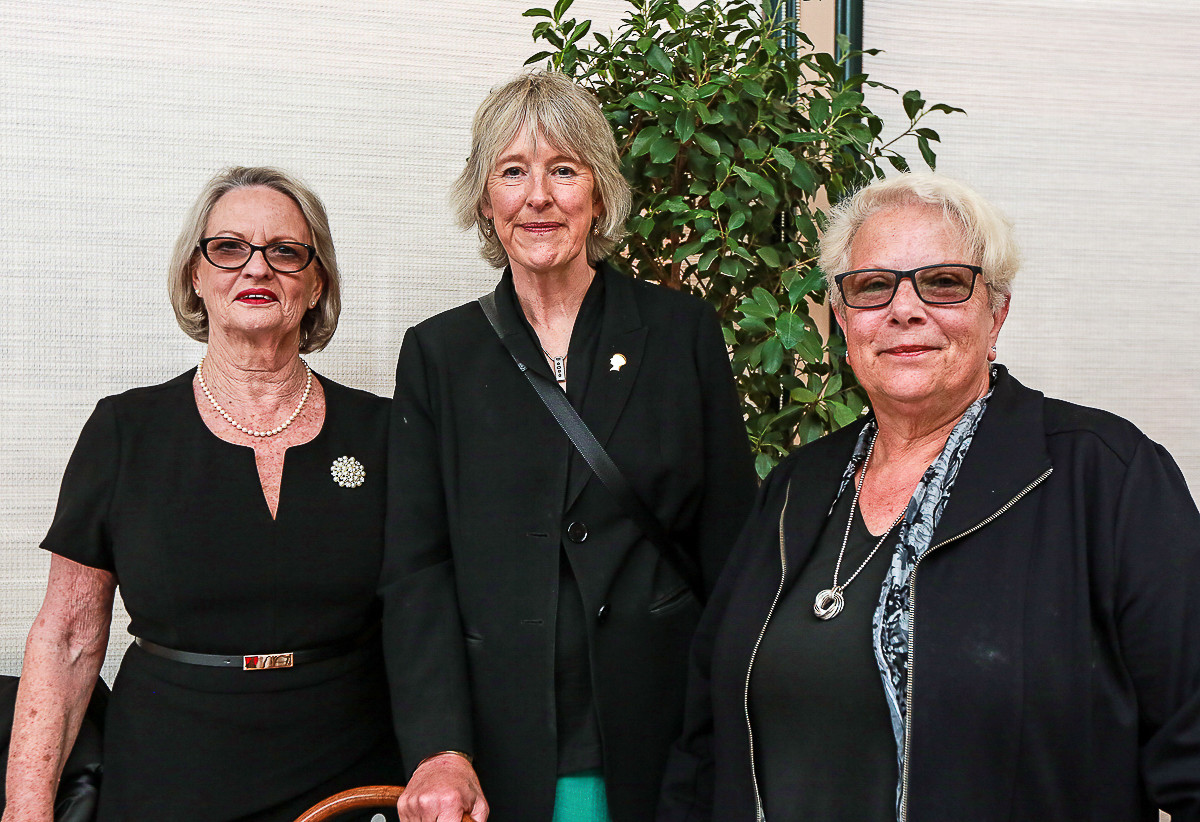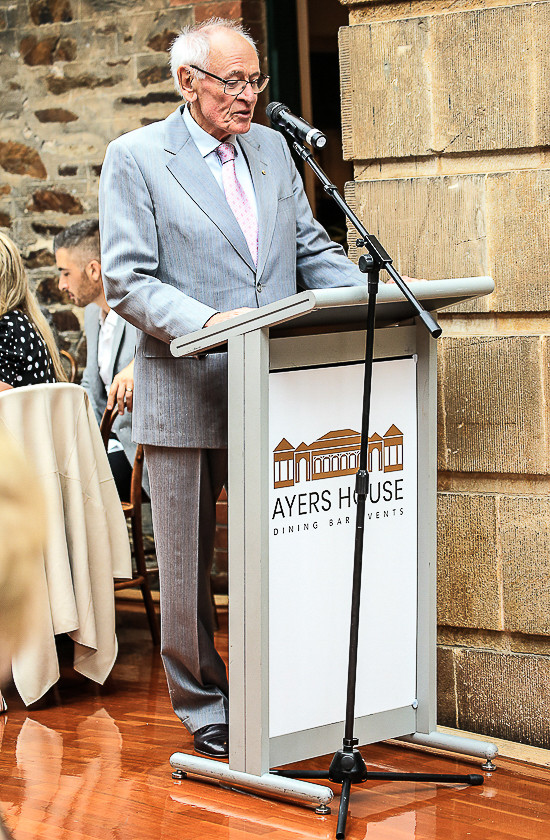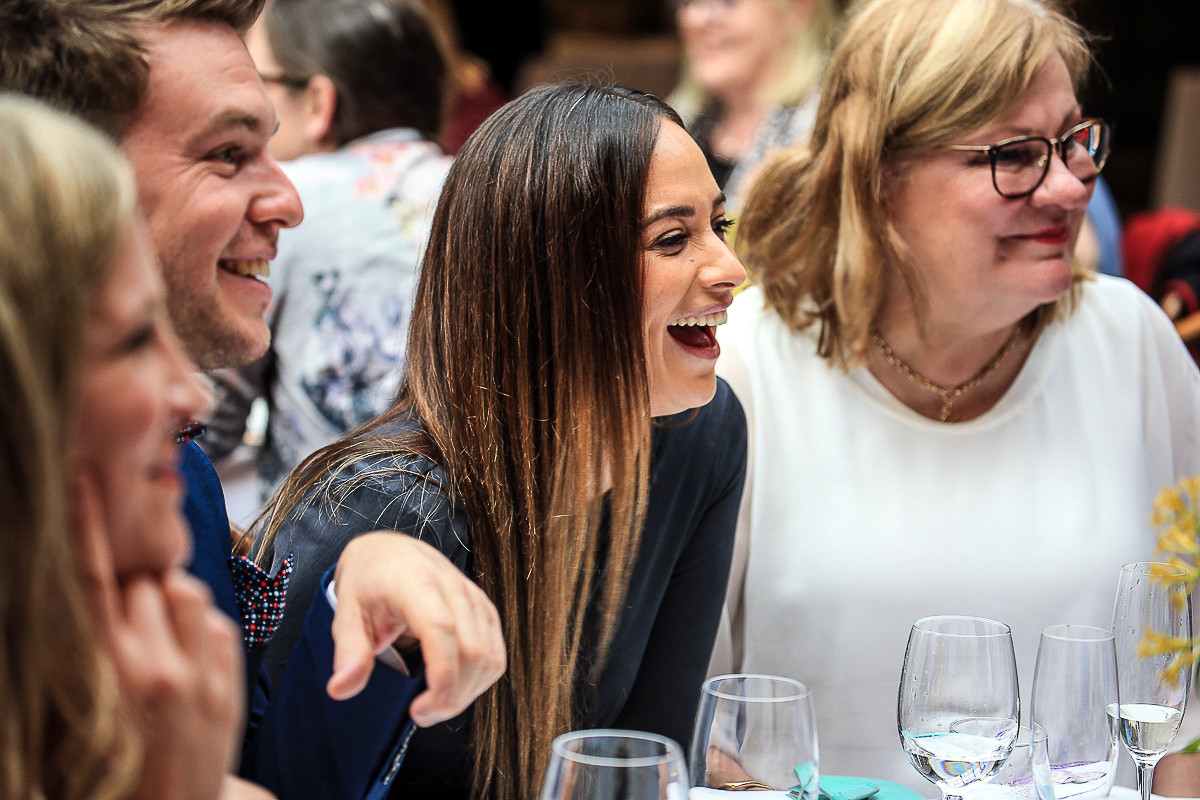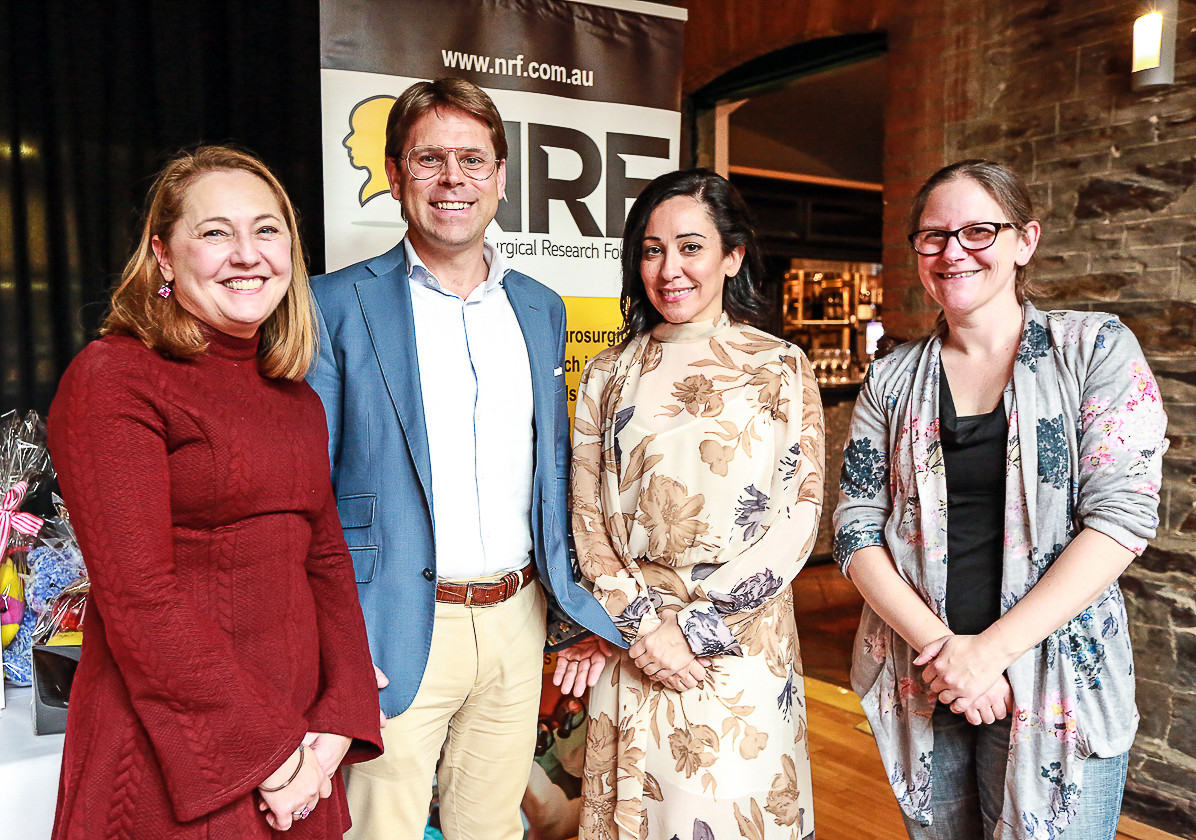 Photography courtesy of Gillian Rayment of AZOIC Arts.
Guest speaker videos - please click on the below links:
Dr Glenn McCulloch - NRF President
Dr Nadia Kingham - NRF Board Member & Daughter of TAR Dinning
Prof Peter Reilly AO - Retired Neurosurgeon
Dr Adam Wells - NRF Abbie Simpson Clinical Fellow