Parkinson's Awareness Month April
Monday 30 March 2020
Understanding Parkinson's Disease – NRF funds research into disease which affects every 1 in 350 Australians
The NeuroSurgical Research Foundation (NRF) funds leading research into Parkinson's Disease at the University of Adelaide.
Researcher Dr Lyndsey Collins-Praino from the Adelaide Medical School said funding from the James and Diana Ramsay Foundation would result in a rich database on how decision-making is altered in Parkinson's disease (PD), how these alterations are influenced by specific genetic factors, as well as by motor subtype of the disease, and how decision-making may decline over time.
Being able to track changes in decision-making over the course of the disease is a critical first step for developing a way to predict risk and progression of cognitive decline in PD and to potentially prevent it.
"We now have the opportunity to pair a comprehensive, custom-developed cognitive testing battery with cutting-edge genetic analyses and machine learning paradigms to try to predict who is at risk for cognitive decline in Parkinson's and the rate at which such decline will happen,'' Dr Collins-Praino said.
"This research is foundational for developing early intervention protocols which may be able to help us slow, or even prevent, the onset of this debilitating symptom of Parkinson's."
Dr Irina Baetu, senior lecturer in the University of Adelaide's School of Psychology and co-researcher said, "Analyses will target genetic variation that is linked to changes in specific brain circuits to help researchers predict an individual's response to medication, to identify which individuals may benefit most from dopamine replacement medication, and which individuals may instead show pronounced negative cognitive side effects."
Early detection of cognitive decline could be particularly beneficial for implementing targeted interventions to slow down or even prevent cognitive and motor dysfunction not only in PD but also in healthy ageing.
Find out more about current NRF Neurodegeneration research here: https://www.nrf.com.au/current-neurodegeneration-research
What is Parkinson's Disease?
Parkinson's Disease (PD) is a progressive neurological condition, which is characterised by both motor (movement) and non-motor symptoms.
PD affects 10 million people worldwide. In Australia, 1 in every 350 Australians suffers from the disease, with 32 new cases diagnosed each day. The prevalence of PD is expected to double by 2040.
Over 80% of individuals go on to develop a form of dementia, known as Parkinson's disease dementia (PD-D), within 20 years of diagnosis. There are currently no treatments for PD-D.
With 95% of cases of PD having no known cause, and the wait for diagnosis often meaning an already substantial loss of dopamine, it is currently often too late for treatment to be effective as brain tissue can't be restored once it is lost.
Case Studies – Patient Stories
The NRF recently interviewed several members of the Parkinson's SA art therapy class about their health, diagnosis and lives with PD.
Jillian
"I was diagnosed five years ago with Parkinson's and I have been coming to Parkinson's SA ever since. I have a husband, two daughters, two grandson's and four cats – two of them are pet therapy cats. One works at the Mary Potter Hospice and one works at an aged care facility.
"I have been retired for 24 years but I had a career as a Commemorations Officer at the University of Adelaide. I used to organise graduation ceremonies in South Australia and overseas in Kuala Lumpur, Singapore and Hong Kong."
"I come to art classes here each Wednesday – it is wonderful. As soon as I picked up the Parkinson's SA booklet and saw there was a free art class – I thought – I am going to do that! I love meeting people with the same condition, everyone's experience is different, and I love hearing about people's journeys," Jillian said.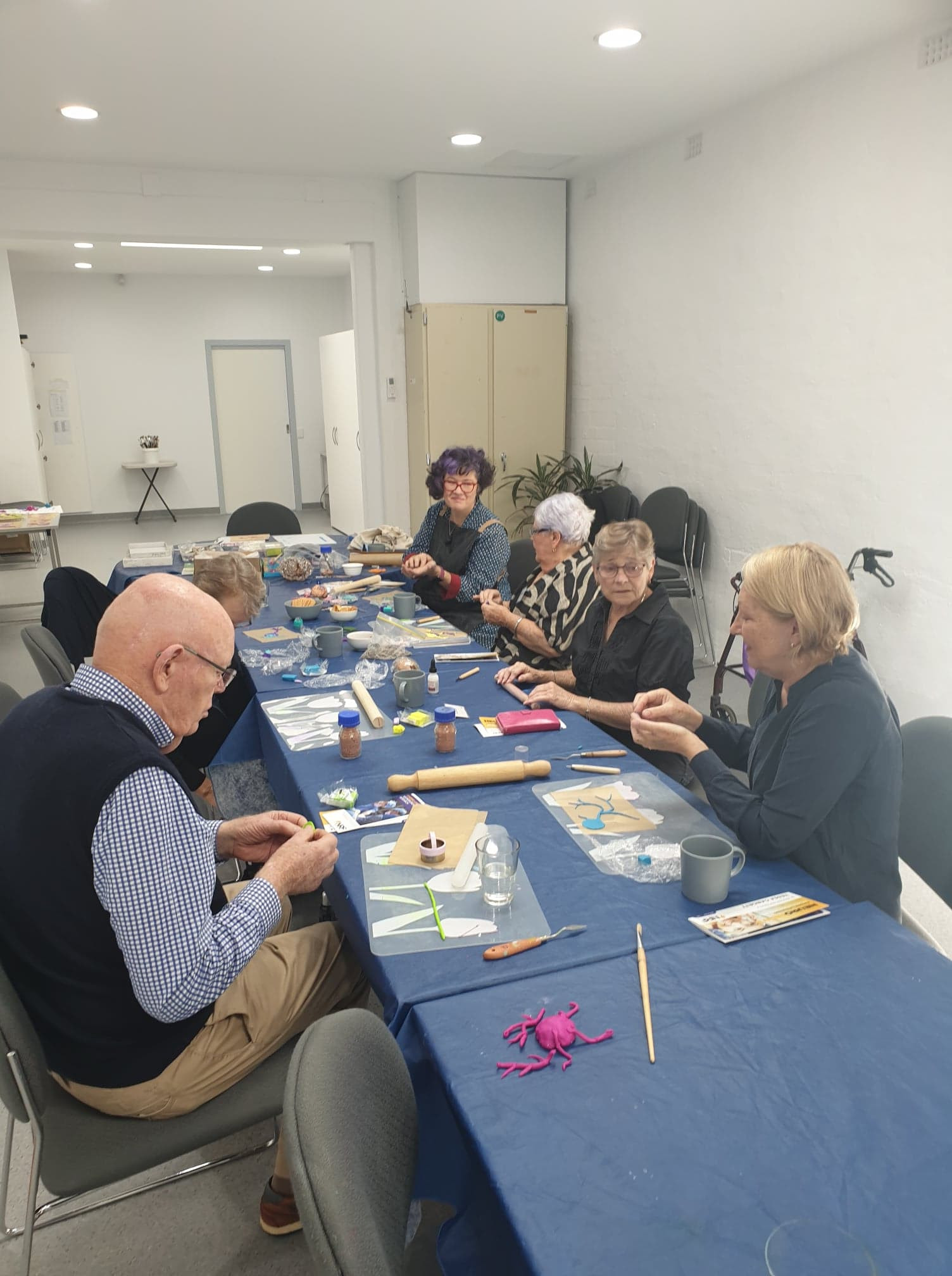 John
"I have been coming to Parkinson's SA art classes for two years and I was diagnosed around three years ago. The challenge I find is in identifying my situation. So, when I saw the brochure about the art class – which said 'absolute beginners welcome' – I thought that is me! I really value the support I get here – they are genuine people and it is amazing what you can do in this art class – and see the development of your skills.
"I have four grandchildren and I have their adoring support – they are always asking me, 'Poppy what are you making next?'. They love to see what I have made.
"I also do boxing training twice a week – my friend calls me the 'Renaissance Man' as I am into literature, sport, and art. It is interesting to hear other people's stories – you really discover that everyone with Parkinson's has a unique experience.
"I feel like I have a team around me – my family, my neurologist, my neuro physiotherapist. I feel a calmness coming here," John said.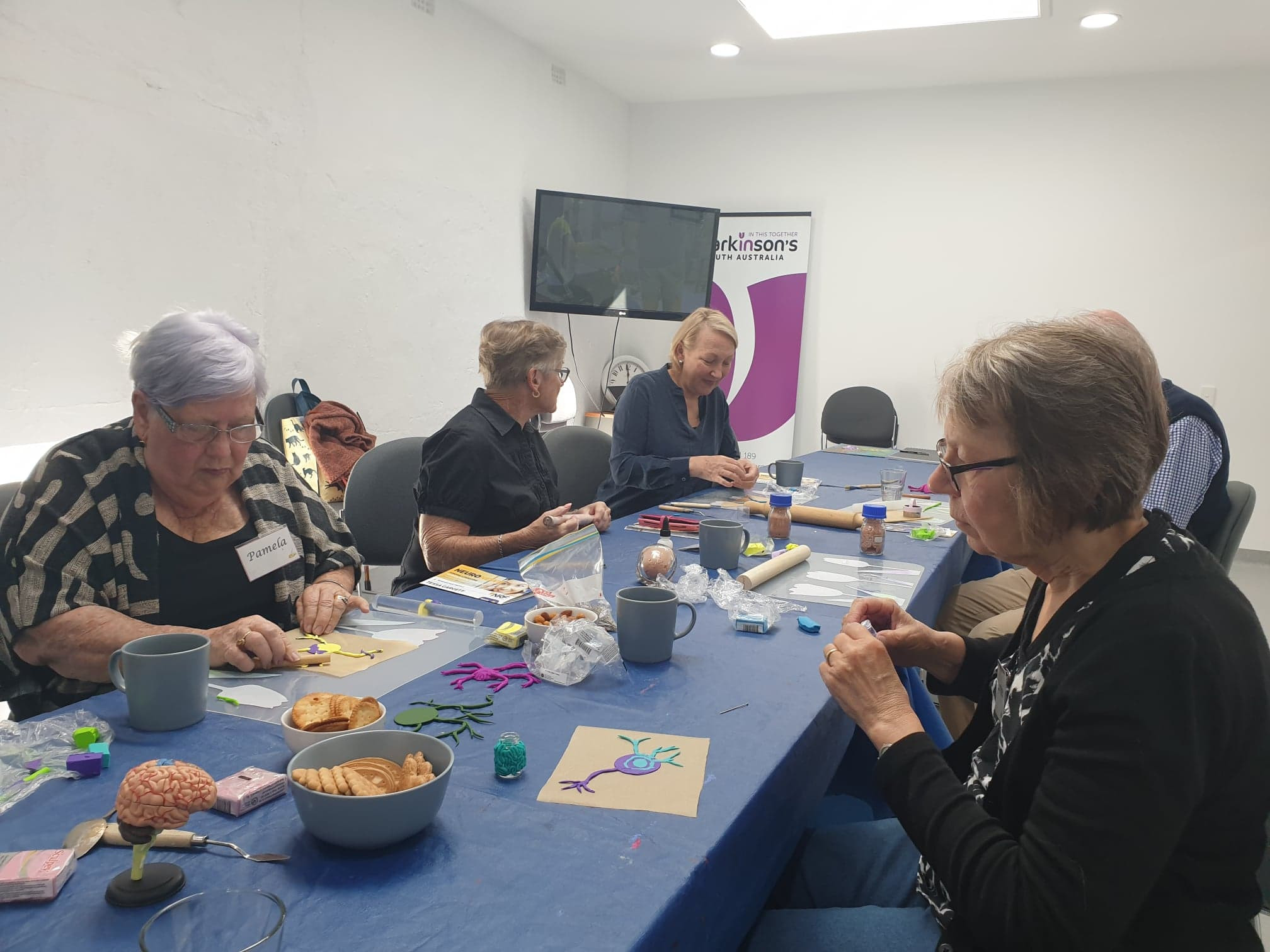 Carmel
"I was diagnosed around six and a half years ago and I found it quite devastating at the time. I was just over 60 years of age. I was able to keep working for a few years with the medication as I really enjoyed my job as Library Assistant at the Gawler Library. However, we had moved further away from work, so the drive proved to be a bit difficult.
"I found it quite difficult to tell my friends and work colleagues about it. In fact, I have just told them recently. I wanted to travel once I had retired but I need to mindful about managing my energy levels. I can't overdo it. So, I have just had to adapt my lifestyle.
"I have been coming to the art class here at Parkinson's SA for the last two – three years. I just enjoy switching off, the concentration and you don't need to pretend. It is a very caring environment. I feel comfortable here. I enjoy learning new things, it is interesting. I prefer the hands-on work with the clay compared to the watercolour painting.
"At home I enjoy sewing – I have taken up patchwork quilting. I enjoy the design process and matching the colours of the fabrics. I also go to the gym – exercise is great for Parkinson's as you build new neural pathways and connections. I try to help myself as much as possible and keep brain fit," Carmel said.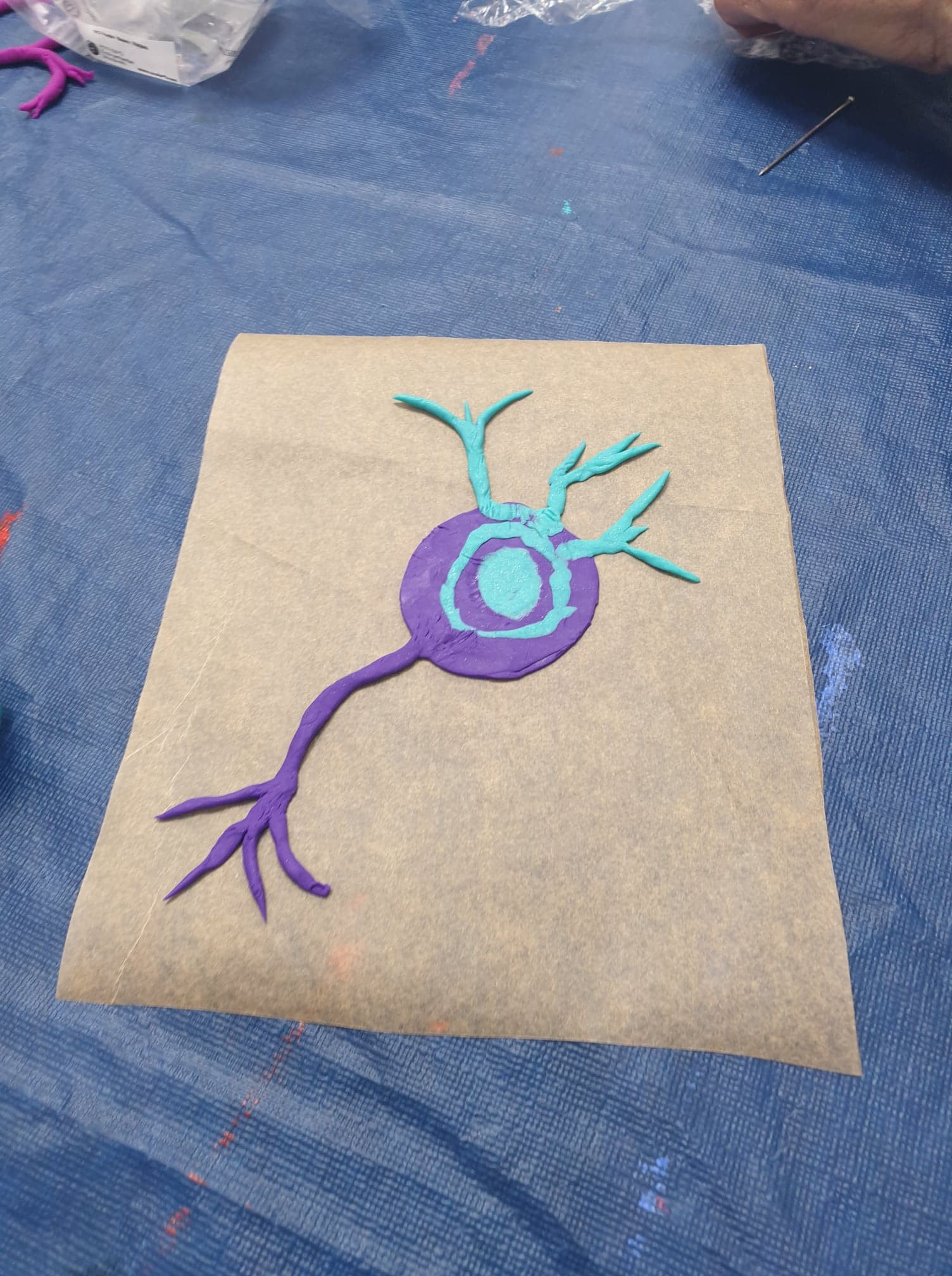 To donate to the NRF Parkinson's Disease research please visit:
https://www.givenow.com.au/parkinsons-research