Executive Officer Ginta Orchard celebrates 20 years with the NRF
Wednesday 29 June 2022
20 years and counting! Our fantastic Executive Officer Ginta Orchard looks back over her time with the NRF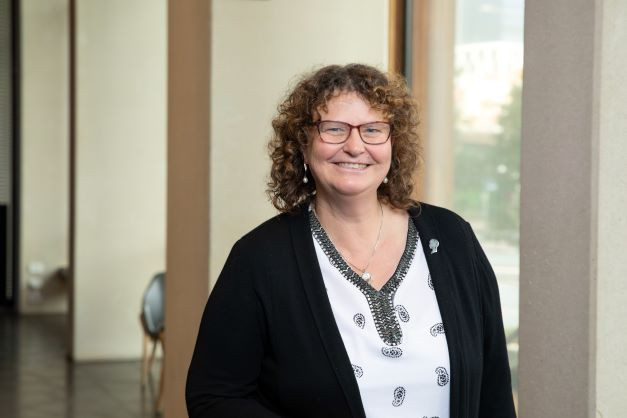 "I come from an Event Management background. Having grown up in Adelaide I studied a Bachelor of Applied Science in Recreation Management, then worked in events in Melbourne and London before heading back to Adelaide in 1998.
I worked in charity events for SCOSA and ANFE Community Care, then applied for the NeuroSurgical Research Foundation in June 2002.
It was an honour to have been interviewed and appointed by past President Prof Donald Simpson, who co-founded the NRF in 1963. I knew immediately that this was the job for me.
My first task was to organise the NRF 40th Celebration. I worked with amazing volunteers Di Floreani, Valda Jones and Casandra Hewett who are still volunteers and donors today.
I remember nervous board members questioning "what do you mean there will be music and a band and dancing?". Over 250 people gathered for the first of many such celebrations.
I was thrilled to run and host 5 Coopers Open Days at Coopers initially with Bill Cooper, and then Melanie Cooper from 2003 to 2011. Bill also arranged for the NRF to be one of 4 SA charities involved with the reopening of the new Adelaide Airport 2005.
Another great relationship to celebrate is having worked with volunteer Graphic Designer Jessica Anderson since 2007 on all the NRF Annual Report designs, as well as imaging for many other events such as the Todd to Torrens and NRF 50th Anniversary celebration. Jessica is still a valuable team member today.
In 2008 the Foundation transitioned from our traditional Traumatic Brain Injury, Spinal Cord Injury and Stroke focus to add Brain Tumour Research to our portfolio, awarding our first $18,000 grant. Prior to this there had been little brain tumour research occurring in Adelaide. Since then we have established Brain Tumour Research SA and fund over $300,000 in brain tumour research annually.
It was a privilege to work with Grant Stevens on the Ride Like Crazy events. After Senior Sergeant Mick "Crazy" Koerner of the South Australia Police was diagnosed with an inoperable brain tumour in 2008, his work colleagues and friends set out to organise a "small" event to raise money to fight cancer. Over 600 riders participated that first year, and it became an annual event attracting over 12,000 riders since 2010 and raising over $1.5 million for cancer research.
It is an honour to have worked with Patrons Carolyn Hewson and Catherine Branson who were both not only amazing leaders and mentors, but also avid fundraisers walking the City to Bay a few times each. I myself have walked and run and fundraised with NRF Team Neuro in the City to Bay which has raised over $300,000 in 10 years.
Another highlight was working on the rebranding to NRF in 2011 as NeuroSurgical Research Foundation is a mouthful to say and sell.
I see that nearly every 5 years there has been a new project or direction the NRF has taken on and ventured into, so in essence I have had a new job every 5 years just in the same organisation. I also manage to work my love for events into the annual work plan for the NRF. Our 50th Celebration at the Entertainment Centre with over 400 people was a highlight. We are already planning the 60th celebrations for next year.
2013 saw our first additional staff member being appointed. We now have an amazing team of 3 essential part-time staff to support the NRF and our work.
In 2015 the NRF ventured into social media with our Facebook and Twitter pages. This has been an activity I have loved, explored and embraced. So if you do not yet Like or Follow us please do. We have so many exciting research, fundraiser and patient stories to share.
I can't leave out my own challenging year with my battle with breast cancer in 2017. I thank the research every day that has ensured I am here today.
That is what drives me the most, I want to be part of finding improved treatments and potential cures to save lives. That is why I am still here today.
I cannot name and thank all the amazing volunteers, donors, researchers and neurosurgeons I have worked with over the years. However, I have been honoured to work with you all and I look forward to another 5 years together working with this amazing team at the NRF, we can make a difference.
In my spare time I am mother of 2 beautiful children who along with my husband have helped out in the office, at events and even fundraised as well. Poor David has been at the bay at 6am to cook 200 sausages, has handed out mini brains at the Adelaide 36ers event and attended more NRF functions than the NRF President at the time. So thank you to you all.
I am very involved in the Latvian Community and manage to volunteer myself on some Boards.
I am a water lover and love swimming and my aqua aerobics so maybe that will be our next fundraising venture…"

A huge thank you to Ginta for all that she has done for the NRF over the past 20 years. She has been integral to the growth and evolution of the Foundation, and is widely recognised for her passion, expertise and dedication. Happy Anniversary Ginta!