Interview with Neurosurgeon Dr Simon Sandler
Thursday 17 February 2022
Dr Sandler has worked as a Neuro/Spinal Fellow at Flinders Medical Centre and is currently a Consultant at Royal Adelaide Hospital.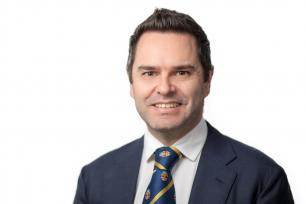 Dr Sandler is a South African trained neurosurgeon and spinal surgeon and holds dual fellowship qualifications in neurosurgery from the Colleges of Medicine of South Africa and The Royal Australasian College of Surgeons (Australia.)
Dr Sandler's interests include all spinal disorders (deformity, degenerative, trauma, inflammatory, tumour) and performs both invasive and minimally invasive spinal surgery (keyhole) as well as neurosurgical conditions with a special interest in tumours, infection, and hydrocephalus.
Dr Sandler has worked as a Neuro/Spinal Fellow at Flinders Medical Centre and is currently a Consultant at Royal Adelaide Hospital where he works in both the department of Neurosurgery and Spinal Unit, Department of Trauma and Orthopaedics.
Dr Sandler is actively involved in academic research and teaching across both clinical units. He is an Editorial Consultant for Spinal Surgery News and holds the position of Clinical Senior Lecturer at the University of Adelaide.
Dr Sandler recently became an Australian and has committed his practice to the service of the Australian community.
Why did you become a Neurosurgeon? What was it that led you to this career?
During my medical student years and as an intern and resident I soon became drawn to Neurosurgery. I was drawn to this highly complex organ (the brain, spinal cord, and nerves) and intrigued by how little we still knew about its intricacies and inner workings. I wanted to be involved with being able to help the sickest patients in the hospital with devastating neurological diseases. I loved the technically challenging operations on fascinating and complex anatomy utilising the most up to date and state of the art equipment.
I enjoyed developing relationships with motivated and passionate colleagues and the endless research opportunities. I rotated through neurosurgery as a student, then was fortunate enough to have a rotation during my resident years on the same department at Groote Schuur Hospital, Cape Town, South Africa. I then worked in London at Guy's and St. Thomas's Hospital NHS Trust in a spinal unit and fell in love with spinal surgery. I returned to Groote Schuur Hospital where I completed my specialist training and received my Fellowship qualification in Neurosurgery in 2008. I completed further subspeciality fellowship training in spinal surgery which also brought me to Adelaide, South Australia. I hold dual fellowship qualifications from the College of Medicines of South Africa (FCNeurosurgery SA) and the Royal Australasian College of Surgeons (FRACS Neurosurgery) and am the current Director of Neurosurgery (Head of Unit) at the Royal Adelaide Hospital and work across Neurosurgery and Orthopaedic spinal surgery as a neurosurgeon and spinal surgeon.
What do you value or enjoy most about your line of work and why?
Neurosurgery is certainly a demanding discipline with amazing highs and sad lows for both patient and doctor/carer. I value more than anything the privilege of being able to try and help people when they are at their most vulnerable and to try and improve their quality of life and time with their loved ones. We are also very lucky to have an incredible resource in the Royal Adelaide Hospital and access to amazing collegiate support across not only my neurosurgical community but the medical community as a whole and that makes me very proud.
What keeps you motivated and why?
It is not hard to remain humble and motivated by this great surgical discipline. I am forever learning and striving to be better, not only for myself but also for my patients and their outcomes. I have worked with incredible surgeons and doctors who have taught me so much and I am hoping that I can also share and impart my knowledge to the next generation of surgeons who will continue to build and advance the future of neurosurgery. There is a quote from Lombardi that has always stuck with me: "Perfection is not attainable, but if we chase perfection, we can catch excellence". I strive and remain motivated to be the best doctor I can be every day. I am also hugely motivated by my incredible wife and three amazing children. Without them I am nothing.
What keeps you awake at night and why?
Sometimes, it's an emergency surgery, sometimes it's my mind deep in thought about the steps of an upcoming case that may be complex. I think it's important to have an ability to debrief and talk about cases with colleagues. This shared learning and experience allows us to share the burden and always improve our outcomes and help us have less sleepless nights.
Please describe your approach with patients.
I like to form a relationship with my patients and their families. I take the time to understand their background, their occupation, their lifestyle, and their wishes and wants. I think it's so important for a patient to understand their anatomy and pathology and in so doing understand what has gone wrong with their body and what I can do to try and help them. This sets clear expectations and understanding around their surgery and sometimes also alleviates fear. Clear, precise, and open dialogue with compassion is my approach to all my patients.