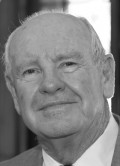 Dr Glenn McCulloch
NRF Board Member since 2010 | NRF President since 2020
Current and past positions:
Retired Neurosurgeon, having worked mainly at TQEH but also at the other SA public hospitals. He has been heavily involved in the Neurosurgical Society of Australasia (President, Secretary, Treasurer and Board member) and the Royal Australasian College of Surgeons (Councillor, Member of the Surgical Education and Training Board in Neurosurgery).
Involvement in the NRF Board:
Glenn is involved with the NRF Board to make a difference.
"I have become involved because I want to be part of the team that finds solutions to the treatment and cures for brain tumours, traumatic brain injury and other devastating neurosurgical conditions.
"In my role as President I am looking forward to leading this unique organisation so that we can continue to give hope to patients and support world-class researchers here in South Australia."
Personal motivations:
"Donald Simpson and Jim Dinning were the inspiration for me to pursue neurosurgery. Their clinical skills and diagnostic acumen inspired me as a young medical student."