Dr Santosh Poonnoose Interview for Go Grey in May 2021
Tuesday 11 May 2021
Dr Santosh Poonnoose is a neurosurgeon and new member of the NRF board. To promote Go Grey in May for Brain Tumour Awareness Month, he has shared his story with the NRF.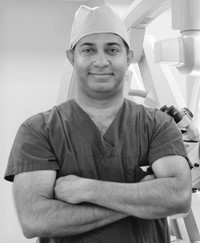 1. Why did you decide on a career as a neurosurgeon? What inspired this choice?
I grew up on an idyllic wooded campus of a medical school in South India. Our small town of Vellore had a large hospital that attracted patients from all across India. My parents were teachers. My father taught chemistry in the medical school and conducted the choir. Growing up in a community of medical students and doctors in a town that revolved around a hospital, medicine was a natural career choice.
Music, sports and a wide circle of friends filled my undergraduate years. When I graduated, I felt that since I had thoroughly enjoyed life until then, it was time to buckle down and do something challenging.
I had liked neuroanatomy as a medical student. But neurosurgery was generally considered a difficult speciality – seriously ill patients, long hours and long years of training, Neurosurgical registrars had 'a reputation' for being tough. My family and friends were concerned that this would not be a good career fit for me.
I had time to think it over during the two years that I taught anatomy and neuro anatomy to medical students. I decided to test the water by working as a house surgeon in neurosurgery for a year. By the end of the year I was sure that this was what I wanted to do for the rest of my life.
Over two decades later, I still love the subject and I hope I continue to be a compassionate, warm and approachable neurosurgeon.
2. What is it about neurosurgery that fascinates you?
The neurosurgical field is very wide­—it includes the brain, spine, and the nerves of the limbs. This variety makes work very interesting. In each of these sites one needs to think and pay attention to detail and in planning and performing surgery.
Neurosurgery requires surgical and medical expertise I believe that it is also a speciality that requires great inner strength to deal with diseases that threaten life and function; and with surgeries that could go badly wrong. One of the most difficult things for a surgeon is to continue to operate on the next patient after the poor outcome of a previous surgery. One has to be resilient to handle job stress but sensitive when communicating with patients.
3. What is a day in your life like?
Since I work both at the Flinders Medical Centre and the Calvary Adelaide hospital, my days tend to be split between the two hospitals. I usually start the day at 5 am with a session at the local gym. When my children were young the morning involved getting them out of bed with a cup of hot chocolate and a short prayer for the day.
I would then leave to do rounds on the patients at the private hospital (Calvary Adelaide Hospital) before heading either to the public hospital or my private rooms for consultation.
I am in the operation theatre two days a week. Surgical lists usually start at 8am and comprise of two to four operations in a day. Surgeries could last from two hours to eight hours each. Operating lists generally finish between 6PM and 8PM. After every operation I call the patient's family to update them of the outcome of surgery. I feel that is an essential part of being a good surgeon. Once the list is over I usually visit the post-operative patients in the ward before leaving the hospital.
On consultation days I made a conscious effort to contain the work within reasonable hours so that I could pick up my children from school at least two days a week. This meant, that I got to spend time with my family and avoided the addiction of workaholism. Work-life balance means a great deal to me, and I have prioritized this over several financial opportunities.
Once I am back home in the evening I try to keep work out. Once the family has settled down for the night, I do some work or watch television before going to bed around 10.30pm. I enjoy cooking, photography and more recently cycling. Weekends would often see me dishing up an Indian curry for the family or going out for a ride.
4. What would you say to a young person contemplating a medical career?
Take time to choose your career. Medicine is a career of service. You have to enjoy helping others. If you choose Medicine in order to have a good income and a high standard of living you have missed the point. If you are a people person you might enjoy clinical specialties with opportunities for patient interaction. If that is not your natural strength, there are opportunities in medical fields that do not involve as much patient contact.
The two greatest regrets for many physicians are that 1) they had having given enough time to their family and 2)They had not chosen the right work environment. So, my advice: do what you enjoy, work with people you respect, and make sure you get time with your family.
5. What do you hope to achieve as a member of the NRF Board and why?
Members of the board come from different occupational backgrounds. This gives the board a stability when deciding what to do with its fund. Amongst the board members there are some of us who are directly involved in various aspect of nervous system research. My interest is in neuro-oncology research.
When I came to Australia for a year in 2004, I had no plans to stay on. However life happened and I stayed on at the Flinders Medical Centre. Eight years after qualifying as a Neurosurgeon in India, in 2008 I passed my Australian board exam. When I finished, I realised that there was no brain tumour research work being done in South Australia.
Recognising this void, over the next four to five years, I was able to set up a resource facility called the South Australian Neurological Tumour Bank. The timing was perfect as I was able to engage with some outstanding scientists like Stuart Pitson, Michael Brown, Cedric Bardy, Guillermo Gomez and Simon Conn to start work in the field of neuro-oncological research.
Over the years we have had several successful grants and I am proud of the cooperative network that we have created between all the clinicians and scientists in town to advance research in the field of neuro-oncology. I would like to encourage and further grow research in this area through the NRF. South Australia should be a world leader in the field of neurosurgical research with leaders like founder TAR (Jim) Dinning and Donald Simpson having led the way.
The board has experts from the various aspect of neuro-research, such as trauma, degenerative disease, and stroke research. This ensures that the NRF looks after all these areas in a measured and balanced manner. The money donated to the NRF is precious money and it needs to be used in the most careful and effective manner. I feel I am part of this process, and therefore am happy to be on the NRF board.